Welcome to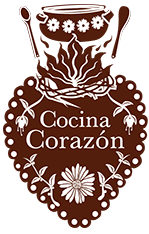 In-home cooking classes, team-building events, classes in my kitchen studio and personal chef service.
Authentic Mexican cuisine from various regions of Mexico
Through Cocina Corazon, cooking with friends and family is so much fun! Discover the art of Mexican cuisine and learn traditional homemade recipes, easy to reproduce. Simply, the most authentic Mexican cooking classes in Colorado Springs and vicinity. Gather your favorite people, choose the date, time and dish; and Barb will take care of everything else. If you prefer to just relax with your friends, Barb offers Chef-At-Home service, or cooking demos to impress your guests with the most exquisite dishes!
The traditional cuisine from the different regions of Mexico is not only about the ingredients, cooking methods and utensils; it is about the rich legacy through generations, and cultural identity. Through Cocina Corazón's cooking classes, you will learn, share and enjoy authentic Mexican recipes from Puebla, Yucatán, Jalisco, Oaxaca and other regions of Mexico.
Why Cocina Corazon?
Cocina = Kitchen (co-CEE-nah)
Corazón = Heart (co-rah-SONE)

"I believe that cooking from the heart, with love, transforms every dish into an exquisite delicacy to be shared, an experience for the palate, and a soothing moment for the soul."   -Barbara Santos McAllister
Cooking Classes
Barbara brings her family recipes to you through a wonderful cooking experience
Great to celebrate birthdays, anniversaries, team-building, book club gatherings, ladies' nights out, couples cooking together, family reunions, etc.
In-Home classes - 6 people and up
My Kitchen classes - 8 people and up
Team-building classes for larger groups - in-person and online (Zoom experience)
2.5-3 hours long (depending on the dish and skills)
On each class you will be able to taste the fruits of your work!
100% Hands-on with guidance
Warm and relaxed atmosphere
Tailored to your desire
Flexible schedules - mornings, afternoons, and evenings. Weekends available upon request
Cooking classes available at my kitchen studio!
Personal Chef service available - if you just like to enjoy the food and pamper your guests
Cooking demos available
Available in Colorado Springs and vicinity (Monument – Castle Rock – South Denver *extra fees may apply for these locations*)

Meet your instructor Barbara Santos
- Mucho gusto!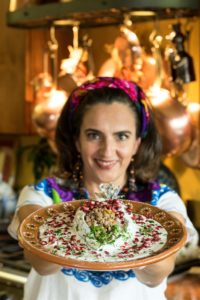 Bárbara Santos-McAllister (or Barb, as family and friends know her) was born in Mexico City. She offers in-home cooking classes, personal chef service, cooking classes at her kitchen studio and catering - taco bar for parties - She is passionate about sharing her Mexican heritage with the Colorado Springs community. Coming from a traditional Mexican family, she grew up surrounded by the aroma of delicious spices and zesty peppers -"I used to love walking the street mercados (markets), where I could taste every fruit and enjoy the freshness, beauty and colors of the food. All of my family stories began in our 'cocina' (kitchen)".
Barb's Career
Bárbara graduated from the Universidad Iberoamericana in Mexico City with a degree in Business Administration, specializing in Hospitality Management. While there, she took culinary classes with a leading chef, who taught her the basics as well as advanced techniques –"That's when I developed a true passion for cooking. But my real mentors were my 'abuelitas' (both grandmas), and of course my mother, who still cooks with me a lot."
For most of her career in Mexico City, she was immersed in a demanding corporate job. But when she moved to Colorado Springs in 2012, she missed her home recipes so much, that she decided to document all her family recipes. That's how she rediscovered the joy of homemade Mexican cooking –"The best part of me comes out when I'm in my kitchen, cooking the recipes from my beloved family."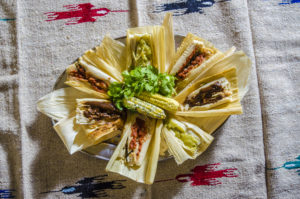 Devoted mom, mountaineer and trail runner
She believes in a healthy lifestyle. With her husband, she has climbed over 20 summits, including 3 major volcanoes and several Colorado Fourteeners. Eating healthy is key for her and her family! –"I am very proud to honor my Mexican tradition of healthy eating everyday, and all my recipes are made from the best quality products and ingredients."
Inspired by the Mexican writer Laura Esquivel in "Like water for Chocolate", a novel that shows the basic role of food in our Mexican culture, I sometimes feel like Tita, the main character: "Tita was the last link in a chain of cooks who had been passing culinary secrets from generation to generation since ancient times, and she was considered the finest exponent of the marvelous art of cooking." - Laura Esquivel