Team-Building Cooking Experiences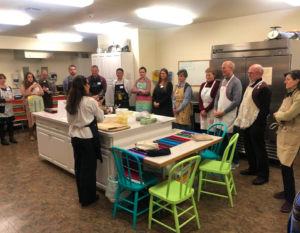 In-Home - My Kitchen Studio - Online through Zoom
Team Building cooking classes are a wonderful way for bonding, breaking the ice and getting to know each other better. Your team will interact in a totally different environment, away from the office. Corporate cooking classes can be held at your own location (if you have a kitchen), my kitchen studio, or online through Zoom.
My kitchen studio located in Manitou Springs can hold up to 20 people.  Tables and chairs are available for your teammates to sit down, relax and enjoy the fruits of their work after the cooking class. A minimum of six people is required for in-home cooking classes, and eight people for classes in my kitchen studio.
You choose the dish, date and time. I'll take care of everything else to provide a wonderful team-building cooking experience.
Teamwork is encouraged in all my cooking classes. The group might be divided in smaller groups to work on a specific recipe. Then, everyone shares their dishes in the end. Recipes are always provided!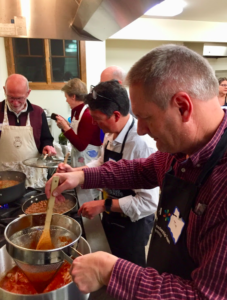 Specialized in corporate cooking events
Relaxed environment
Authentic Mexican cuisine
Teammates are free to take breaks, sit down, have a drink and ask questions
Choose from traditional or signature dishes
Vegan, vegetarian, dairy-free, gluten-free friendly recipes

Zoom Cooking Classes
Online team building cooking classes through zoom have three different cameras available to provide a full experience
Up to 100 people
I provide all the material needed with plenty of time, so each member of your staff would be ready to enjoy the experience
100% hands-on
Active interaction to keep the pace of the class. No one stays behind
What an authentic Mexican cooking experience! Our team was so delighted and motivated with Chef Barb's guidance. So different and fun! – Brittany L. (CEO Technology company)