Why is Mole Poblano the icon of Mexican cuisine?
Mulli, the Aztec word for mole means mix or sauce. An exquisite delicacy from the colonial city of Puebla, México. If I close my eyes I can remember that aroma of my grandmother's kitchen – I see her mixing the chocolate with the mulato, pasilla and ancho chile mixture in a massive clay pot. This sauce was combined with a very unique paste that she made from scratch – pieces of bread, corn tortilla, tomatoes, garlic, onion, anise, cinnamon, black pepper, roasted nuts and other ingredients.
It is believed that this unique dish takes days to be prepared. The truth is that even it is a complex dish, in a few hours you are able to make an authentic Mole Poblano from scratch. There are cooking classes available that teach you how to make an exquisite home-made Mole Poblano in less than four hours.
~ Mulli  or Mole is a fragrant and legendary dish with more than twenty ingredients ~
Our grandmas used to take several hours or even days to prepare mole. Nowadays with technology and short-cuts you can have a mole from scratch in about 3.5 hours (chicken broth time not included).
Origin of the Mole Poblano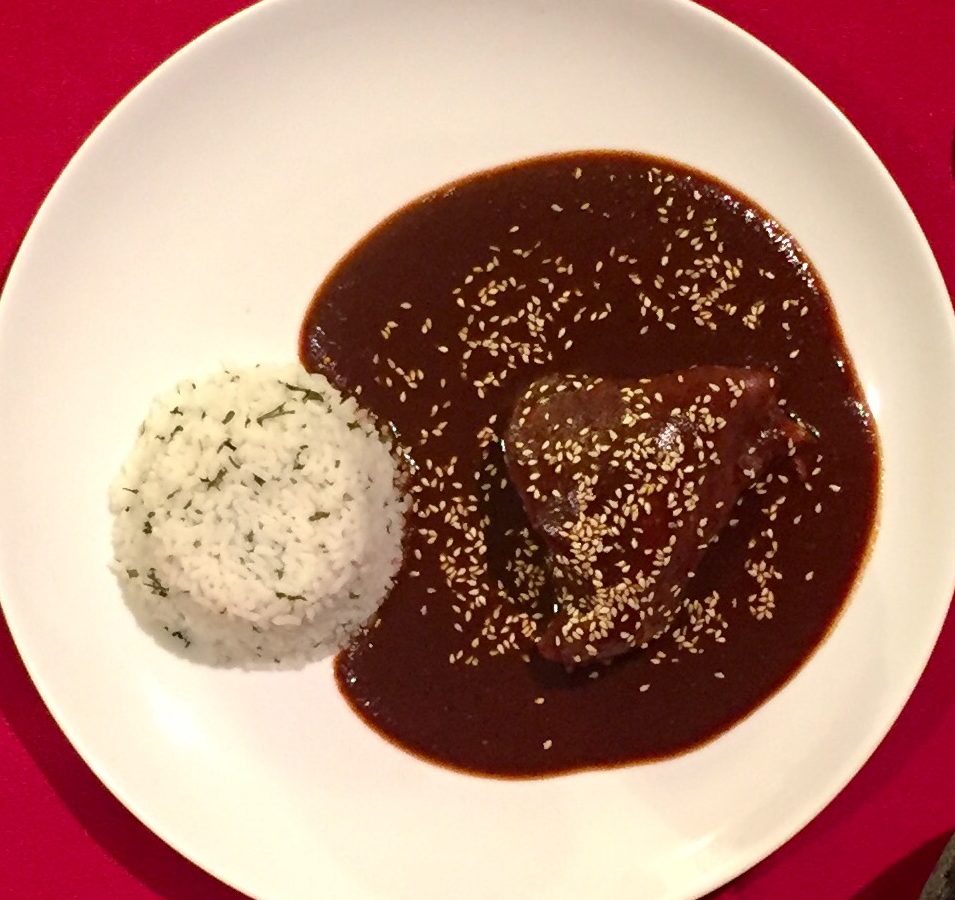 There are many versions of the history of mole. Based on facts, Mole had its origin in pre-hispanic Mexico, when it was called mulli and was made with turkey and served in Aztec rituals and other festive occasions. One of the most treasured ingredients used in the mole is xocolatl – Aztec word for chocolate. The arrival of Europeans brought many new spices and ingredients that have been incorporated into the dish, modifying its flavor.
Other legends talk about the Santa Rosa convent in Puebla, where the nuns created this exquisite dish by mere accident back in 1680 to please Viceroy Tomás Antonio de la Cerda y Aragón. What is true is that the current Mole Poblano is from the region of Puebla and it is different from the Mole Negro from Oaxaca. Today, there are more than 300 different moles, as the combinations of ingredients could be endless.
Some of these moles are: Mole verde 'Pipián' (green mole), encacahuatado (peanut mole), almendrado (almond mole), mole rojo (red with guajillo), manchamanteles (mole with various chiles and fruits), mole amarillo (yellow mole), mole negro (black mole from Oaxaca), etc.
Mole Poblano includes about 20 different ingredients – dried chiles, Mexican chocolate, a wide variety of spices, nuts and vegetables, which after hours of boiling, this concoction reduced to the rich mole sauce we are familiar with today.
Mole Poblano is considered the National dish in Mexico
Mole Poblano is used in many ways – enmoladas (mole enchiladas), filling for tamales, on top of Mexican rice, mixed with different meats or on top of huevos estrellados – sunny side up eggs.